Dermatitis, Diarrhea and Alopecia: What Is Your Diagnosis?
History and Clinical Presentation
A 36-year-old black woman presents to the
emergency room with the chief complaint of a desquamating, painful skin
rash around her mouth, abdomen, groin, inner thighs, and buttocks, which
has been present for the past 8-10 days. She also noticed increased
peeling of the skin on her hands and feet. The patient has not been able
to eat normally for a few days because of increasing tongue pain.
History
Eight years ago she had gastric bypass
surgery and has lost more than 230 lb. Since her surgery, she has
suffered from chronic abdominal pain and diarrhea as a result of short
gut syndrome, and she reports worsening of diarrhea for the past 4
months. The patient also complains of chronic, progressive hair loss.
Physical Examination
Physical exam reveals large, red-brown
plaques with desquamating sheets of scale and underlying superficial
erosions and denuded tissue on the patient's buttocks (Figures 1 and 2)
and inner thighs (Figure 3). On oral exam, similar perioral, red-brown
desquamation and smooth, edematous glossitis are seen (Figure 4).
Desquamation is also evident on the palms of her hands (Figure 5) and
soles of her feet. Diffuse, patchy, nonscarring alopecia is present on
the scalp.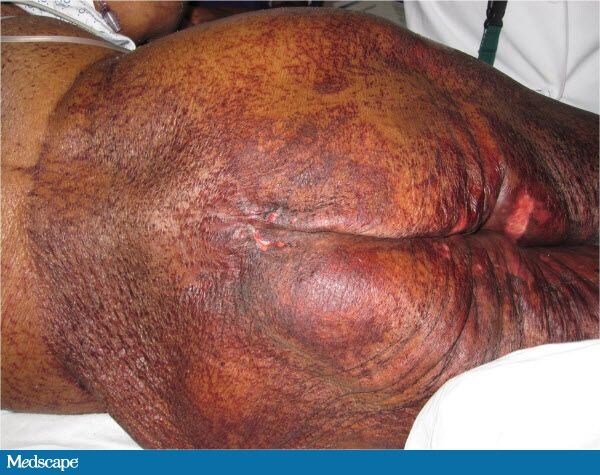 Figure 1.
Red-brown plaques and desquamation of patient's buttocks.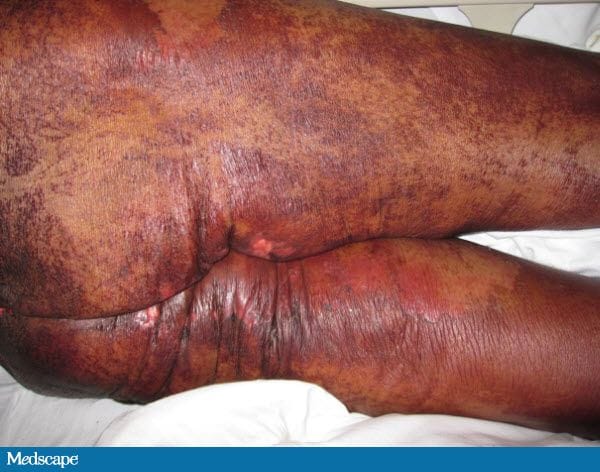 Figure 2.
Red-brown plaques and desquamation of patient's buttocks.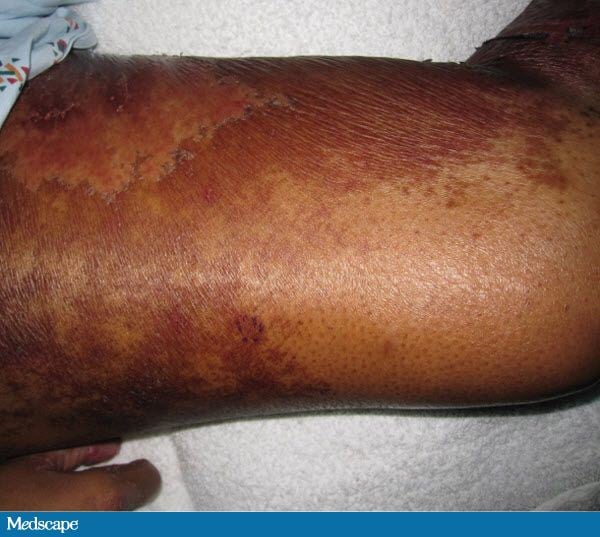 Figure 3.
Plaques and desquamation of patient's upper thigh.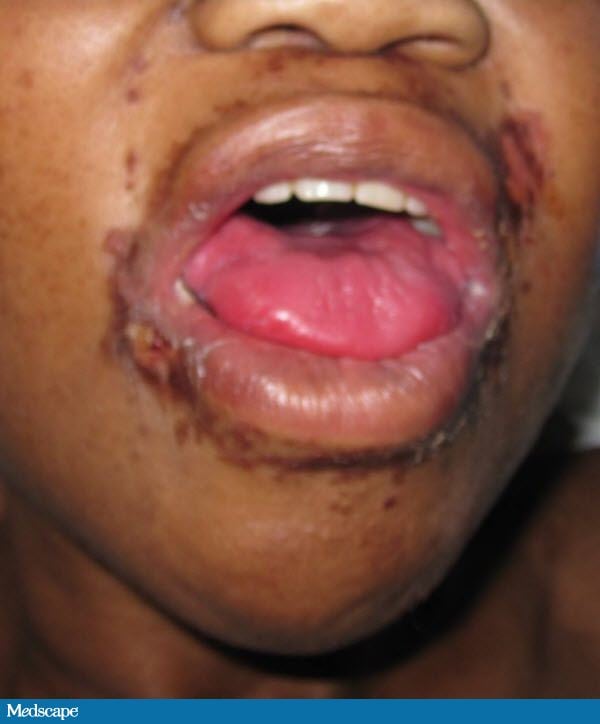 Figure 4.
Perioral plaques and glossitis.
Figure 5.
Palms of hands, showing skin desquamation.
Diagnostic Evaluation
Histopathology
On hematoxylin and eosin (H&E) stain,
atrophic epidermis with palor high and confluent parakeratosis and
alternating orthokeratosis are visualized. The keratinocytes within the
epidermis are relatively normal (Figures 6 and 7).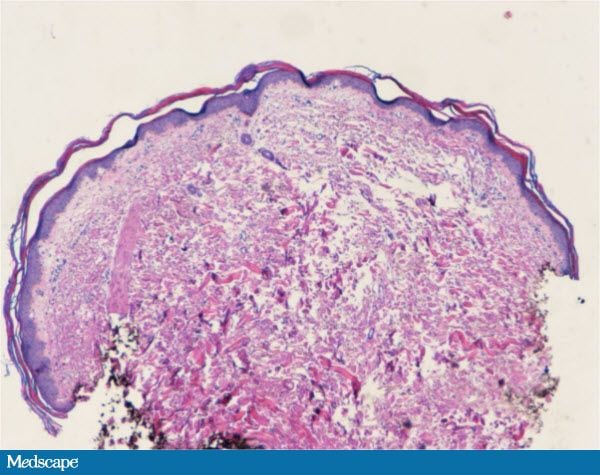 Figure 6.
H&E stain, low magnification (10x).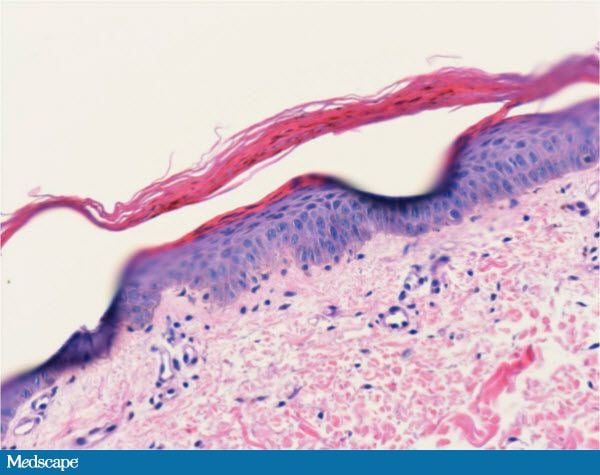 Figure 7.
H&E stain, high magnification (40x).
What is your diagnosis?


Lichen planus

Mastocytosis

Necrolytic acral erythema

Glucagonoma syndrome

Acquired zinc deficiency

Diagnosis



Laboratory Studies


The patient's glucagon level was within
normal limits and hepatitis C antibody levels were negative. Measurement
of serum zinc revealed a level that was below normal limits at 50 μg/dL
(normal range, 70-150 μg/dL).


Discussion: The Missing Zinc


Given the clinical, histologic, and
laboratory findings, the patient was diagnosed with acquired zinc
deficiency and associated exfoliative dermatitis.
Zinc is one of the most important elements in
the human body, mediating the production of lipids, proteins, and
nucleic acids. It also plays an essential role in normal wound healing,
reproduction, cardiovascular health, olfaction, and immunity. The
recommended daily allowance of zinc is 15 mg but can range from 3 to 25
mg depending on age.[1-3]
A wide variety of foods contain zinc. Amounts of zinc contained in food
are determined by the protein content of the food source. Oysters
contain higher levels of zinc per serving than any other nutritional
source. Other excellent sources include beans, whole grains, nuts, green
leafy vegetables, and dairy products.[1,2]

Zinc deficiency is divided into acquired and
genetic forms. Acrodermatitis enteropathica (the genetic form) is
inherited in an autosomal recessive fashion.[4] Mutations in the transmembrane zinc transporter protein SLC39A4 on chromosome 8 affect normal intestinal absorption of zinc.[5,6]
Children affected by this condition usually present with periorificial
and acral erythematous, scaly plaques, diarrhea, and alopecia within the
first few months of life as breast-feeding is discontinued.[4,7] Secondary infection with Staphylococcus aureus or Candida albicans is also common.[2]

Acquired zinc deficiency is seen in
association with a number of conditions affecting either zinc intake or
absorption (such as high-fiber diets, poor nutritional intake,
malabsorption syndromes, and gastrointestinal disease) or excessive zinc
losses, including alcoholism, malignancy, pregnancy, drugs
(penicillamine), and extensive burns.[2,3]
Acquired forms of zinc deficiency can look fairly similar to genetic
forms upon presentation, with the classic triad of exfoliative
dermatitis, diarrhea, and alopecia. The condition can be further
complicated by impaired immunity, poor wound healing, anorexia, or
delayed puberty.[1,2,8]

Zinc deficiency is diagnosed by the classic
triad of clinical features (dermatitis, diarrhea, and alopecia),
histologic findings (epidermal atrophy and necrosis) and low plasma zinc
levels. Most patients will have plasma zinc levels below 60 μg/dL.[1]The differential diagnosis includes glucagonoma and necrolytic acral erythema secondary to hepatitis C infection.[2]
After the diagnosis of zinc deficiency is confirmed, zinc should be
supplemented at a dose of 1-3 mg/kg/day for life. Response to treatment
is fairly rapid; improvement in cutaneous findings can be seen as early
as 1-2 weeks.[1-3]






Follow-up


The lower small bowel absorptive area in this
patient following her bariatric procedure led to her acquired zinc
deficiency. She was admitted to the hospital for nutritional support,
intravenous fluids, and zinc supplementation. Her exfoliative dermatitis
dramatically improved after only 15 days of zinc supplementation
(Figure 8).




Figure 8. Improvement in cutaneous findings between presentation (day 1) and almost 3 weeks of treatment (day 20).