Atrial Flutter
Atrial
Fibrillation,fibrillation,AF,Heart,ECG,Atrial
Fibrillation,cardiac,heart,Atrial Fibrillation,ECG,AF,ECG,Cardiac
muscle,AF,ECG,Atrial Fibrillation,AF,ECG,AF,ECG,Cardiac
muscle,AF,ECG,Atrial Fibrillation,AF
Background
Atrial
flutter has many clinical aspects that are similar to atrial
fibrillation (ie, underlying disease, predisposing factors,
complications, medical management). However, the underlying mechanism of
atrial flutter makes it amenable to cure this arrhythmia with
percutaneous catheter-based techniques. Some patients have both atrial flutter and atrial fibrillation.
The elimination of atrial flutter has been noted to reduce or eliminate
episodes of atrial fibrillation. Left untreated, persistent atrial
flutter can degenerate into chronic atrial fibrillation. Uncommon forms
of atrial flutter have been noted during long-term follow-up in as many
as 26% of patients with surgical correction of congenital cardiac
anomalies.
Next Section: Pathophysiology
PathophysiologyIn
most studies, approximately 30% of patients have no underlying cardiac
disease, 30% have coronary artery heart disease, and 30% have
hypertensive heart disease. Other conditions are also associated with
atrial flutter, including cardiomyopathy, hypoxia, chronic obstructive
pulmonary disease, thyrotoxicosis, pheochromocytoma, electrolyte
imbalance, and alcohol consumption.
Animal models have been used
to demonstrate that an anatomical block (surgically created) or a
functional block of conduction between the superior vena cava and
inferior vena cava, similar to the crista terminalis in the human right
atrium, is key to initiating and maintaining the arrhythmia. In
humans, the most common form of atrial flutter (type I [classic])
involves a single reentrant circuit with circus activation in the right
atrium around the tricuspid valve annulus (most often in a
counterclockwise direction), with an area of slow conduction located
between the tricuspid valve annulus and the coronary sinus ostium
(subeustachian isthmus).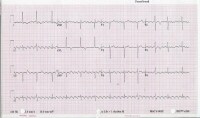 Twelve-lead ECG of type I atrial flutter. Note negative sawtooth pattern of flutter waves in leads II, III, and aVF. A 3D electroanatomic map of type I atrial flutter:The
3-dimensional electroanatomic map of type I atrial flutter. The colors
progress from blue to red to white and represent relative conduction
time in the right atrium (early to late). An ablation line (red dots)
has been created on the tricuspid ridge extending to the inferior vena
cava. This interrupts the flutter circuit.RAA: right atrial appendage;
CSO: coronary sinus os; IVC: inferior vena cava; TV: tricuspid valve
annulus. The crista terminalis acts as
another anatomic conduction barrier, similar to the line of conduction
block between the 2 venae cavae required in the animal model. The
orifices of both venae cavae, the eustachian ridge, the coronary sinus
orifice, and the tricuspid annulus complete the barrier for the reentry
circuit. Atrial flutter is often referred to as isthmus-dependent
flutter. Usually the rhythm is due to reentry, there is an excitable
gap, and the rhythm can be entrained.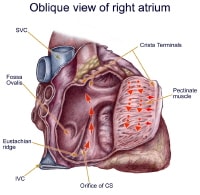 The
anatomy of classic counterclockwise atrial flutter. This demonstrates
an oblique view of the right atrium and shows some of the crucial
structures. The isthmus of tissue responsible for atrial flutter is seen
anterior to the orifice of the coronary sinus. The Eustachian ridge is
part of the crista terminalis that separates the roughened part of the
right atrium from the smooth septal part of the right atrium. Classic
counterclockwise atrial flutter has caudocranial activation (ie,
counterclockwise around the tricuspid valve annulus when viewed in the
left antero-oblique fluoroscopic view) of the atrial septum.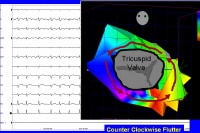 Classic
counterclockwise atrial flutter. This 3-dimensional electroanatomic map
of the tricuspid value and right atrial show the activation pattern
displayed in color format. Red is early and blue is late relative to a
fixed point in time. Activation travels in a counterclockwise direction.
Classic atrial flutter can also have the
opposite activation sequence (ie, clockwise activation around the
tricuspid valve annulus). Clockwise atrial flutter is much less common.
This arrhythmia is still considered type I, isthmus-dependent, clockwise
flutter.Type II (atypical) atrial flutters are less extensively
studied and electroanatomically characterized. Atypical atrial flutters
may originate from the right atrium (surgical scars [ie, incisional
reentry]) or from the left atrium (pulmonary veins [ie, focal reentry]
or mitral annulus).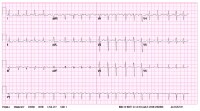 Atypical LA flutter. Left
atrial flutter is common after incomplete left atrial ablation
procedures and may result in faster ventricular rates than seen during
atrial fibrillation. Thus, tricuspid isthmus dependency is not a
prerequisite for atrial flutter. Often, the atrial rate is faster
(340-350 bpm) in atypical flutter and the arrhythmia can not be
entrained.
Previous
Next Section: Pathophysiology
EpidemiologyFrequencyUnited States
Atrial
flutter is much less common than atrial fibrillation. From 1985-1990,
of patients admitted to US hospitals with a diagnosis of
supraventricular tachycardia, 77% had atrial fibrillation and 10% had
atrial flutter. Based on a study of patients referred for tertiary care
centers, the incidence of atrial flutter in the United States is
estimated at 200,000 new cases per year.
[1]
Mortality/Morbidity
Prognosis
depends on the patient's underlying medical condition. Any atrial
arrhythmia can cause a tachycardia-induced cardiomyopathy. Intervening
to control the ventricular response rate or to return the patient to
sinus rhythm is important. Thrombus in the left atrium has been
described in patients with atrial flutter (0-21%). Thromboembolic
complications have also been described. Due to conduction
properties of the atrioventricular node, many people with atrial flutter
will have a faster ventricular response (than those with atrial
fibrillation). Heart rate is often more difficult to control with atrial
flutter than with atrial fibrillation.
Sex
Atrial
flutter is associated with a male predominance. In a study of 100
patients with atrial flutter, 75% were men. In another study performed
at a tertiary care study, atrial flutter was 2.5 times more common in
men.
Age
Patients with atrial flutter, as with atrial
fibrillation, tend to be older adults. In one study, the average age was
64 years (range 27-86 y).