Wellens Syndrome
Background
Wellens
syndrome was first described by de Zwaan, Wellens, and colleagues in
the early 1980s when they recognized a subset of patients with unstable
angina who had specific precordial T-wave changes and subsequently
developed a large anterior wall myocardial infarction.
[1]
Wellens
syndrome refers to these specific electrocardiographic abnormalities in
the precordial T-wave segment, which are associated with critical
stenosis of the proximal left anterior descending (LAD) coronary artery.Wellens syndrome is also referred to as LAD coronary T-wave syndrome.
[2]
Syndrome
criteria include characteristic T-wave changes; a history of anginal
chest pain; normal or minimally elevated cardiac enzyme levels; and
finally an ECG without Q waves, without significant ST elevation, and
normal precordial R-wave progression. Recognition of this ECG
abnormality is of paramount importance because this syndrome represents a
preinfarction stage of coronary artery disease that often progresses to
a devastating anterior wall infarction. In this ECG pattern,
there is significant involvement of the T-wave, with minimal ST-segment
alteration. The ST segments themselves are usually isoelectric, but, if
abnormal, there will be less than 1 mm of elevations with a high take
off of the ST segment from the QRS complex. The characteristic changes
of this electrocardiographic syndrome occur in the T-wave and occur in 2
forms. The more common form, which occurs 76% of the time, is deep inversion of the T-wave segment in the precordial leads.
[3]
The
ST segment will be straight or concave, and pass into a deep negative T
wave at an angle of 60-90 degrees. The T wave is symmetric. In Wellens
syndrome, these changes generally occur in leads V
1
-V
4
but may also occasionally involve V
5
and V
6
. V
1
is involved in approximately 66% of patients and lead V
4
nearly 75% of the time.
[4]
See the ECG images below.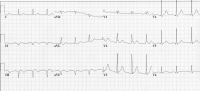 This
ECG represents a patient who came in to the emergency department with
8/10 chest pain. The patient had old right bundle-branch block (RBBB)
and left ventricular hypertrophy (LVH), and this compared
similarly to
his previous ECGs.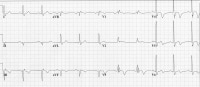 Classic
Wellens syndrome T-wave changes. This ECG represents a patient who came
in to the emergency department with 8/10 chest pain after becoming pain
free secondary to medications. Notice the deep T waves in V3-V5 and
slight biphasic T wave in V6 in this chest pain– free ECG. The patient
had negative cardiac enzyme levels and later had a stent placed in the
proximal left anterior descending (LAD) artery. The less
common variant of Wellens syndrome, which occurs in 24% of patients,
consists of biphasic T waves, most commonly in leads V
2
and V
3
but also can include V
1-
V
5
/V
6
.
[5]
See the ECG images below.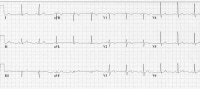 A
57-year-old with 4/10 pressurelike chest pain. Improvement with
treatment by EMS. The patient had this ECG on arrival. Notice perhaps
the beginning of a small biphasic T wave in V2.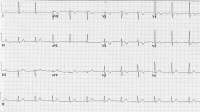 pain-free
ECG of a 57-year-old patient who presented wPith 4/10 pressurelike chest
pain. Notice after the patient was treated with medications and pain
subsided, the ECG shows T-wave inversion in V2 and biphasic T waves in
V3-V5. This more closely resembles the less common presentation of
Wellens syndrome with a biphasic T-wave pattern. This patient had a
cardiac catheterization that showed a subtotal occlusion of the proximal
left anterior descending (LAD) artery, which was stented, and the
patient did well. The characteristic pattern classically
presents only during chest pain–free periods and is important to notice
since it is a sign of LAD disease. This emphasizes the importance of
serial ECGs and a pain-free ECG on patients with unstable angina. More
importantly, angiography has demonstrated that 100% of patients with
this syndrome will have greater than 50% stenosis of proximal LAD. More
specifically, 83% will have the lesion proximal to the second septal
perforator.
[4]
Since
the LAD supplies the anterior myocardium, failure to recognize this
pattern can result in anterior wall infarction, significant left
ventricular dysfunction, and/or death.
Pathophysiology
Wellens
syndrome represents critical stenosis of the left anterior descending
coronary artery (LAD). The LAD arises from the left coronary artery and
travels in the interventricular groove along the anterior portion of the
heart to the apex. This groove is situated between the right and left
ventricles of the heart. The LAD gives rise to 2 main branches, the
diagonals and the septal perforators.
[6]
A
lesion in the LAD can have severe consequences, as evidenced by the
LAD's nickname "widow maker." The LAD supplies the anterior wall of the
heart, including both ventricles, as well as the septum. An occlusion in
this vessel can result in serious ventricular dysfunction, thus placing
the patient at serious risk of congestive heart failure and death.
EpidemiologyFrequencyUnited States
This
ECG pattern is relatively common in patients who have symptoms
consistent with unstable angina. In patients admitted with unstable
angina, this ECG pattern is present in 14-18%.
[5, 1]
Mortality/Morbidity
Wellens
syndrome represents critical LAD disease with the natural progression
leading to anterior wall infarction. This progression is so likely that
medical management alone is not enough to stop the natural process.
Evolution to an anterior wall infarction is rapid, with a mean time of
8.5 days from onset of Wellens syndrome to infarction.
[1]
If
anterior wall infarction occurs, there is the potential for substantial
morbidity or mortality. Thus, it is of utmost importance to recognize
this pattern early.
Wellens Syndrome Clinical Presentation
History
Wellens
syndrome represents stenosis of the left anterior descending coronary
artery (LAD), and patients typically present with symptoms or complaints
consistent with coronary artery disease. Generally, the history is most
consistent with unstable angina. Angina can have varying presentations,
but classically patients complain of the following:


Chest pain described as pressure, tightness, or heaviness

Pain classically induced by activity, relieved with rest

Radiation of pain to the jaw, shoulder, or neck

May experience multiple associated symptoms, including, but not limited to diaphoresis, nausea, vomiting, and fatigue

Elderly, diabetic, and female patients are more likely to present with atypical symptoms.
Physical


Physical
examination does not provide any indicators to suspect Wellens
syndrome. However, the patient's examination may show evidence of
ongoing ischemic damage (ie, congestive heart failure [CHF]).

In
addition, most of the ECG changes are recognized when the patient is
pain free, which again stresses the importance of a repeat pain-free ECG
in the emergency department.

Causes
Wellens
syndrome is a preinfarction stage of coronary artery disease. Thus, the
causes of Wellens syndrome are similar to all of those of coronary
artery disease.


Atherosclerotic plaque

Coronary artery vasospasm (Cocaine is one possible cause.)

Increased cardiac demand

Generalized hypoxia

Risk factors include the following:


Smoking history

Diabetes mellitus (DM)

Hypertension

Increased age

Hypercholesterolemia

Hyperlipidemia

Metabolic syndrome

Strong family history of heart disease

Occupational stress

Wellens Syndrome Differential Diagnoses
Differentials


Acute Coronary Syndromes

Angina Pectoris

Atherosclerosis

Coronary Artery Atherosclerosis

Myocardial Infarction

Myocarditis

Pericarditis and Cardiac Tamponade

Pneumonia, Bacterial

Pulmonary Embolism

Laboratory Studies
The following laboratory studies are may be indicated as adjunctive tests in patients with suspected coronary artery disease, acute coronary syndrome, and Wellens syndrome:


Complete blood count (CBC) - To ensure anemia is not precipitant of angina RBC transfusions may be necessary.)

Basic metabolic profile (electrolytes, BUN, creatinine, and glucose levels)

Type and screen - If immediate cardiac catheterization planned

D-dimer, international normalized ratio (INR), partial thromboplastin time (PTT) - Only as medically necessary

Cardiac
biomarkers - In Wellens syndrome, cardiac biomarkers can be falsely
reassuring, as they are typically normal or only minimally elevated.
Only 12% of patients with this syndrome have elevated cardiac biomarker
levels, and these are always less than twice the upper limit of normal,
in the absence of myocardial infarction.[5]

Imaging Studies


Chest
radiography: Chest radiography should be performed in order to look for
side effects of ischemia, such as pulmonary edema. In addition, this
test should be performed to help exclude other possible causes of chest
pain, such as thoracic aneurysm or dissection, pneumonia, or rib
fracture.

CT chest: CT scan of the chest is performed only as indicated to help rule out other causes of chest pain such as aortic dissection
or pulmonary embolus. The value of CT angiography of the chest in
evaluation of chest pain, coronary artery disease, and acute coronary
syndrome is currently being investigated.

Other Tests


ECG:
ECGs should be performed on any patient with complaint of chest pain if
noncardiac causes cannot be diagnosed by other means, including
physical examination. It may be helpful to obtain the ECG both during
pain and then when pain is resolved. The ECG changes seen in Wellens
syndrome typically occur when the patient is pain free but usually occur
in the context of recent anginal chest pain.

Procedures
Patients with this syndrome have been found to have at least a 50% stenosis of the LAD on angiography.
[5]
Patients
with this ECG presentation should generally not undergo stress testing.
If for some reason provocative testing is determined to be necessary,
it should be performed with caution and only in close conjunction with a
cardiologist.
[3, 7]
Stress
testing places these patients at risk for acute anterior wall
myocardial infarction. Therefore, these patients would ideally bypass
stress testing and urgently undergo angiography to determine the extent
of disease and potentially provide information regarding the need for
percutaneous coronary intervention (PCI), coronary artery bypass graft
(CABG), or medical management.
[3, 8]

Wellens Syndrome Treatment & ManagementPrehospital Care
As
Wellens syndrome occurs because of stenosis of the LAD, these patients
typically complain of chest pain presenting as unstable angina. During
episodes of pain, they should be treated in the same manner as any
patient experiencing chest pain thought to be cardiac in origin, which
includes the following:


Immediate arrangements for transport to the nearest hospital

Attention to airway, breathing, and circulation

During transport, efforts should be made to complete the following:

Supplemental oxygen

Vital signs

Intravenous access

Aspirin

ECG, if available prehospital

If pain persists, nitroglycerin, morphine, according to local protocols

</li>
If
Wellens syndrome is identified on an outpatient basis, then
arrangements should be made for urgent evaluation. Stress testing
should
be avoided.
Emergency Department Care
Patients presenting with symptoms consistent with unstable angina should generally receive medications that may help avoid myocardial infarction. Usually, this would include the following:


Intravenous access

Supplemental oxygen

ECG - Initially (Serial examinations and pain-free tracings may be helpful.)

Telemetry monitoring

Chest radiography

Laboratory studies as mentioned above (see Laboratory Studies)

Consideration
should be given to providing aspirin, beta-blocker therapy,
nitroglycerin, morphine, heparin, clopidogrel, and glycoprotein IIB/IIA
inhibitors.

Once again, the ECG changes in Wellens
syndrome are typically only present when the patient is chest pain free.
Thus, obtaining serial ECGs on patients with unstable angina may be
helpful.Even though the ECG changes may be subtle, Wellens
syndrome should be identified because these patients can rarely undergo
stress testing safely. Because Wellens syndrome is a sign of a
pre-infarction stenosis of the left anterior descending coronary artery
(LAD), a stress test has the potential to result in acute infarction and
severe damage to the left ventricle. Therefore, these patients should
generally forgo a stress test and instead may undergo angiography to
evaluate the need for angioplasty or coronary artery bypass surgery.Even
with ideal medical management, the natural progression of Wellens
syndrome is acute anterior wall infarction. Approximately 75% of
patients with Wellens syndrome who are only medically managed and not
revascularized (either through coronary bypass surgery or angioplasty)
will go on to develop extensive anterior wall infarction within days.
[9, 1]
Anterior
wall infarction carries substantial morbidity/mortality, as it will
result in left ventricular dysfunction, and possibly even death. Thus,
patients generally should be medically stabilized if possible, while
arrangements are made for urgent angiography and revascularization if
appropriate.
Consultations
A
cardiologist should be consulted early in the management of these
patients. If the patient remains pain free, it is appropriate to admit
to an internist on a telemetry floor, but they should be notified that
this patient is at high risk and should not have a stress test.If symptoms persist or ECG evolves into ST-segment elevations, an interventional cardiologist should be consulted immediately.
Related Topics
ECG VIDEOS PACKAGE the Best untill Now
The ESC Textbook of Cardiovascular ImagingECG-SAP III: Electrocardiography Self-Assessment ProgramEcho Made EasyHow to record ECGBasic and Bedside Electrocardiography 2011ECGs for Nurses (Essential Clinical Skills for Nurses)

.