You will find this concept easy to understand and is one of the basic concepts in technical analysis. Just like fashions having a trend there is a trend to the way in which share prices move. Trend in relation to share prices is the overall direction of prices for the period being analyzed. 

Any investor's dream would be an upward trend and we will help you identify signals that suggest of an upward trend

An uptrend (or a bull trend) is defined as a series of successive higher highs and higher lows. That is where each peak (highest point in a stock chart) is higher than the previous one and each trough (lowest point in a stock chart) is higher than the previous trough. A simple uptrend chart would look like follows: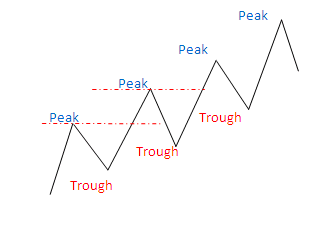 Now let's look at this situation in a stock chart.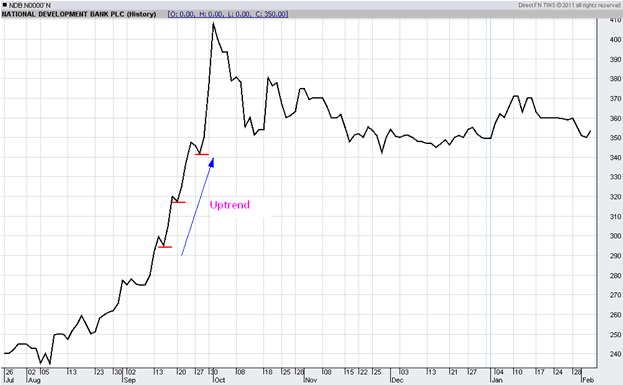 As a general rule, it is considered that an uptrend starts with a higher low and goes above the previous high. And on the other hand an uptrend ends with a lower high and goes below the previous low.

Hope you got the point clear. However, you must remember that there may be some minor exceptions as the trend continues, but, overall, this is how an uptrend or bullish stock chart would behave. 

A downward trend would be just the opposite, with lower highs and lower lows. And it is considered that a downward or bearish trend is starting with a lower peak and goes below the previous low. That is similar to the end of an upward trend. Similarly the end of a downward trend will be the same as the start of an upward trend.

Now let's look at this situation in a stock chart.

​

Generally it is considered that the general trend for price movements continue until there is a specific opposing event that changes the trend. You should be able to identify this point in time in advance so that you will be able to gain from the reversal in the trend. For example, if the prices of a particular stock have been rising in general over a period of time and if a trend reversal is to occur you can exit that stock in advance before the prices start coming down.

Trend comes in handy for you not only to determine how long the existing trend will continue but also to predict possible trend reversals in advance so that you can gain from such knowledge. The trend reversal signals are plenty and we will learn those as we go ahead. However, you should remember that these signals should not be relied upon in isolation as it will only provide you with the possibility of price movements in future. But u can use these signals as a second opinion to confirm a carefully formed buy, sell or hold decision.