F
[center]
Atopic Dermatitis in Emergency Medicine

Introduction
Background
Eczema, or atopic dermatitis, is a common inflammatory disease of the skin. The condition often has its start in childhood
 and follows a variable and sometimes unremitting course. Historically,
 this disease has been considered a part of a triad of "atopy" that  included asthma and allergic rhinitis,
 though this association has recently come into question. Although not a cause of significant mortality, the visible and chronic nature of  eczema can be a source of emotional stress.
Pathophysiology
The  precise mechanism for the development of eczema is unknown.
Whether the  clinical manifestations of atopic dermatitis (AD) are the result of  violation of the epidermis and the subsequent contact between environmental irritants and immune cells, or the reverse sequence, is debatable. Nonetheless, the epidermis is the first line of defense  
between the body and the environment and, when intact, shields the body from a variety of irritants, allergens, and microbes. This barrier,  which is maintained by differentiated keratinocytes and structural  
proteins, can be compromised by inheritance, trauma, decreased humidity,change in pH, and infection.
Atopic skin additionally has  diminished ability to maintain water; this dry skin leads to scratching,  which further contributes to the release of proinflammatory mediators.  Eczema is a biphasic T-cell – mediated
disease: TH2 is more prevalent in  the acute phase, and TH1 predominates in the chronically affected skin.1 Patients  with atopic dermatitis have elevated serum IgE levels, peripheral  eosinophilia, and overall
greater numbers of immune mediators and  cytokines.
Frequency
Atopic dermatitis
 is the most common inflammatory skin disease in children, affecting up to 17% of the pediatric population in the United States, with increasing  prevalence over the past several decades.
United States
Prevalence of atopic dermatitis ranges from approximately 7-17% in children.2 A small percentage of affected children will have the disease into adulthood.
International
Studies  in Japan and Northern Europe have found similar prevalence, with  industrialized and westernized nations noting increasing trends of patients with atopic dermatitis.
Mortality/Morbidity
Mortality  is not associated with atopic dermatitis. The impact of eczema is hard  to measure but has real personal, social, and financial
consequences.  The burden includes but is not limited to professional fees,  hospitalization, pain/suffering, social isolation, poor self-esteem,  and work and/or school performance or absence.
Additionally, patients  suffering from atopic dermatitis are prone to
bacterial superinfection.
Sex
Data shows a slightly increased prevalence of atopic dermatitis in female children.
Age
Atopic  dermatitis predominantly affects infants and young children.
Eczema is  apparent in the first year of life in 60% of cases, and its
onset is  before 5 years in 75% of cases.3 Onset of eczematous appearing disease in adulthood should lead the physician to consider another diagnosis.
A  triphasic course of atopic dermatitis across the lifespan has been  proposed. Phase I develops before IgE sensitization has taken place and
occurs mostly in infants who are likely genetically predisposed to the disease. Phase II involves IgE sensitization to food, environmental  
antigens, or both. Phase III is the product of chronic scratching and is characterized by the formation of IgE autoantibodies against proteins of keratinocytes and endothelial cells.
Clinical
History
The  hallmarks of atopic dermatitis are intense pruritus, chronic eczematous  skin lesions, and epidermal thickening and hypertrophy.


The emergency physician often is the first to diagnose atopic dermatitis.
 The most common presentation is that of infants, usually younger than 6 months, brought in by their parents for a persistent rash. Before  
coming to the ED, the parents may have tried a number of  over-the-counter and home remedies. Parents usually report that the rash
 has waxed and waned for months with a history of dry skin since birth.

Clinicians should inquire about a family history of asthma,
 hay fever, allergy, and other atopic diseases. Patients with pertinent medical or family history of such disease tend to have a worse  
prognosis.

Parents may also give a history of poor sleep or  increased irritability in the patients, which is due to the desire to  scratch the skin during sleep. Atopic dermatitis begins with intense  pruritus,
leading the patient to scratch, which results in the  characteristic rash.

Atopic dermatitis typically is not  associated with fever or other constitutional symptoms, and the presence  of these should prompt the
clinician to look for bacterial  superinfection.

Physical
Atopic  dermatitis is a spectrum of disease that varies in
presentation,  severity, and distribution. Eczema defies a simple definition as the  disease has differing characteristics depending on the age of the  patient and the stage of the disease course.


Lesions may  be acute, subacute, or chronic, each with a characteristic appearance.  Lesions from one stage can convert into another stage at any time due to  processes such as manipulation,
irritation, allergy, or infection.

Acute lesions are intensely itchy and present as vesicles and blisters with intense redness.

Subacute  disease is characterized by slight-to-moderate itching, pain, stinging,  burning and redness, scaling, and fissuring of the skin
with a parched  and scalded appearance.

Chronic eczematous inflammation  demonstrates thickened skin, accentuated skin lines, excoriations, and  fissuring accompanying a
moderate-to-intense itch.

The pattern of skin manifestations also differs across the lifespan.

In infantile atopic dermatitis, pruritic, red, scaly, and crusted lesions
 are typically found on the extensor surfaces and cheeks or scalp, with severe cases possibly presenting with vesicles, serous exudates, or  
crusting. The diaper area is protected and usually spared.

</li>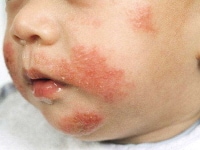 Irritation around mouth of an infant with atopic     dermatitis.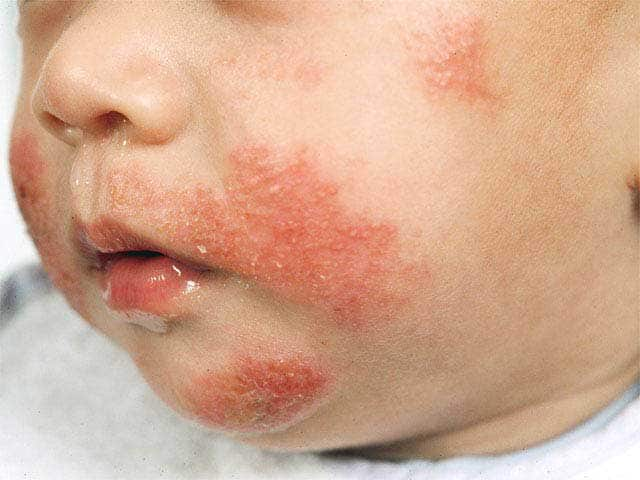 [/url]Irritation around mouth of an infant with atopic     dermatitis.

The lesions in the childhood  stage have less exudation; the skin
often demonstrates lichenified  plaques in a flexural distribution,
commonly antecubital and popliteal  fossae, volar aspect of the wrists,
ankles, and neck.

</li>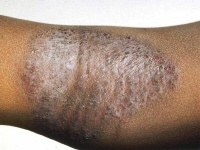 Flexural involvement in childhood atopic     dermatitis.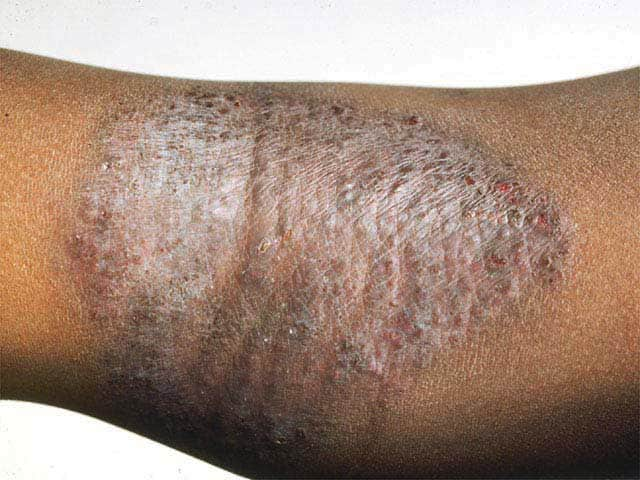 Flexural involvement in childhood atopic     dermatitis
</li>
Product Description
 This newly reorganized and expanded
Second Edition
of the revolutionary reference guide,
Atopic Dermatitis
,
is the only available text devoted to discussing all aspects of this common disease. Appealing to dermatologists, allergists, family practitioners, and pediatricians in daily practice, as well as physician scientists, medical students, and experimental investigators, this
stand-alone guide addresses recent breakthrough discoveries in genetics and new milestones in immunological research in dermatology.    New highlights in the
Second Edition
:  


12 brand new chapters that encompass the latest research

the
latest advances, including regulatory and Th17 cells in atopic dermatitis, cytokines and chemokines, virus infections, autoantigens,
specific immunotherapy, the immune system and atopic dermatitis, and
neuromediators and the pathophysiology of pruritus

coverage of
the most recent areas of advancement: pathophysiology, mechanisms and
cellular aspects, epidemiologic, genetic, and immunologic aspects of
atopic dermatitis

=======================================

GET IT HERE
================================
======================
Related Topics:
A Practical Manual Handbook of Dermatology Free Download
Cosmetic Dermatology: Principles and Practice Free Download
Radiation Therapy for Skin Cancer Free Download
Color Atlas of Chemical Peels Free Download
The Manual of Dermatology Free Download
Dermatology in Clinical Practice Free Download
Hair and Scalp Diseases Free Download